The pulp is then dyed with a cotton dye.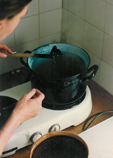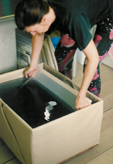 The paper is made by drawing the meshed frame through a large vat with the required amount of pulp suspended in water.
The palet of coloured and textured papers are applied to my work with a special glueing "collage" techniek.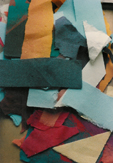 In order to bind the fragile fibre structure of my paper and to size it for further painting, a mixture of starch/gelatine/resin is carefully soaked into the surface, which simultaneously binds the collage pieces to the background paper below.